Career Opportunities
Grow your career while empowering students
To meet our commitments to students and our community, we believe it is crucial to invest in the professional growth and well-being of our staff. Our team members' skills, insights, and creativity play an essential role in giving today's students the tools to become tomorrow's leaders. Apply to join us as we change students' lives and build thriving communities throughout our region!
We encourage candidates with diverse experiences and backgrounds, Black, Indigenous and People of Color, LGBTQIA2S individuals, and unemployed persons to apply. Studies have shown that women and people of color are less likely to apply to jobs unless they meet every single qualification. At Junior Achievement North we are most interested finding the best candidate for the job and someone who is committed to our mission and values. We encourage you to apply, even if you don't believe you meet every one of our qualifications described.
Location: St. Paul, MN
Salary: $52,000-66,000
Status: Full-time
Reports to: VP of Corporate Partnerships
Are you passionate about relationship building community engagement? The Relationship Manager role is a full-time position that helps manage and grow critical corporate relationships with the goal of developing strong corporate funding and employee engagement. This position will work to generate funding for JA programs and engage new or emerging partners (as identified by Senior Leadership, Development, and VP of Corporate Partnerships & Community Engagement) in volunteerism, fundraising events, and employee giving. The Relationship Manager is a skilled relationship builder and steward of corporate partnerships and has experience securing corporate funding. The ideal candidate will be deeply engaged in the corporate community. The Relationship Manager is a member of the Advancement Team, reporting to the Vice President of Corporate Partnerships & Community Engagement.
Primary Responsibilities:
Develop, cultivate, and solicit both emerging and established Corporate Partners, as identified with Senior Leadership and VP of Corporate Partnerships & Community Engagement.
Actively engages with and manages a portfolio of prospects, including cultivation, solicitation, closing of gifts, and stewardship.
Works closely with President/CEO and VP of Corporate Partnerships & Community Engagement to ensure a comprehensive corporate development strategy is implemented to achieve superior customer service while exceeding funding goals.
Promotes employee engagement with Corporate Partners through volunteerism, special events, and employee giving.
Create and deliver funding/sponsorship proposals and event solicitations.
Develop and deliver presentations to companies when appropriate.
Work with advancement team to promote/deliver special events and generate program funding.
Manage records and information relating to development and cultivation/solicitation activity.
Steward corporate relationships and gifts generated, ensuring fulfillment of funding objectives.
Knowledge and commitment to diversity and inclusion.
Special assignments and projects as directed by VP of Corporate Partnerships & Community Engagement.
Qualifications:
3-5 years of corporate fundraising, business development, or equivalent experience.
Bachelor's degree OR Equivalent experience.
Ability to successfully cultivate and solicit corporate gifts.
Track record of achieving revenue targets.
Possess exceptional relationship building and influencing skills, as well as strong communications skills.
Committed to quality and integrity and the ability to work with cross-functional teams and to foster teamwork by exhibiting JA North's value-based behaviors.
Strong commitment to team and mission.
Ability to prioritize, manage and work on multiple projects.
Literacy in Microsoft Office Suite products
Donor database experience, preferably Raiser's Edge.
Location: St. Paul, MN
Salary: $18-22 per hour
Status: Full-time
Reports to: Capstone Director
If you would thrive engaging directly with students, as well as working behind the scenes to support our programmatic and administrative work, than this role is for you.

This position is a combination of roles. The primary role as a Capstone Coordinator will support students as they become young entrepreneurs, customers, and business leaders and learn about personal finances. As a Capstone Coordinator in JA BizTown and JA Finance Park, the position will help students bring learning to life in a real-world environment. This aspect of the role will occur three days a week.
JA BizTown has Capstone Coordinators working alongside young students and volunteers in a fast-paced, fun experiential learning lab.
Capstone Coordinators also support JA Finance Park, which hosts older students for an immersive discussion and activity-based dive into personal budgeting and money management.
The second part of the position is dependent on the specific skills of a successful candidate. This portion of the position will generally occur two days a week. Roles that may be performed may include one or more of the following:
Receptionist
Educator Outreach
Curriculum and supplies management
Program support
Data support
Primary Responsibilities
Capstone Coordinator - Supporting students in JA BizTown and JA Finance Park (60%)
Create a positive experience for students, teachers, and volunteers in partnership with JA North staff during the real-world simulations.
Provide high quality customer service and support to all stakeholders that contributes to renewing commitments from existing schools and educators involved in the program.
Assist with planning and facilitating the school visits.
Implement tools to provide the needed information to volunteers and students during their day in the town or park.
Set up and reset the Capstone labs after each school visit.
Gain and apply knowledge and understanding of the program operations, software systems and equipment.
Create content and implement summer programs in collaboration with the team.
Other projects as required
Administrative, program and operations support – specific assignment based on interest and skillset (40%)
Receptionist:
Greet all visitors to the JA Hemak Experiential Learning Center with a welcoming and helpful demeanor.
Assist with check in of Volunteers.
Maintains security by following set procedures.
Receive calls to the main office phone and transfer calls as needed.
Coordinate mail flow in and out of the building.
Maintain safe and clean reception area, including stocking supplies for coffee bar.
Provide support on other special projects such as meetings, special events, data entry, office organization, etc.
Educator outreach:
Once secured, communicate with educators regarding programming details and other pertinent information.
Coordinate with schools to ensure student transportation is properly scheduled.
Main point of contact for educator questions to provide information and resolve inquiries related to program implementation.
Confirm programming implemented (verification).
Communicate pertinent information to data team.
Curriculum and supplies management:
Prepare curriculum for shipping to educators and / or volunteers as directed.
Maintain organized and accurate inventory records.
Maintain organized supply inventory and identify and communicate purchasing needs.
Process related orders of kits from JA USA utilizing JA USA's proprietary system.
Update class records to reflect kit order date.
Update volunteer record to reflect confirmation email distribution.
Provide necessary information to Accounting to ensure billing for such kits is accurate.
Program Support:
Assist with JA-In-A-Day events at metro elementary schools.
Develop expertise in other program delivery models and assist in delivery as and where appropriate.
Assist with preparation and logistics of JA North program competitions.
Support JA North's customer service plan to ensure quality of program delivery through effective communication, classroom monitoring, and evaluation. Includes periodic classroom visits and/or check-ins.
Liaison with JA North Satellite areas to support their educational/programmatic and volunteer outreach and fundraising efforts.
Data Support:
Enter volunteer, student, teacher, and school data into BCRM database (JA's customized CRM database)
Assist with billing for Capstone experience days and kits purchased by educators.
Back up other data personnel as directed.
Qualifications:
Ability to work in a fast-paced environment.
Ability to work effectively as part of a team and take initiatives when the need arises.
Strong interpersonal skills and ability to deal with a diverse type of people.
Good work ethic, a flexible and non-judgmental approach to people
Strong communication skills that include absorbing, sharing, and understanding information and communicating details (whether written or verbal) in multiple different outlets.
Computer literacy with iPads, Google apps and Microsoft Office Suite
Strong attention to details.
Knowledge and commitment to diversity, equity, and inclusion.
Ability to contribute to a positive organizational culture.
May need active driver's license and vehicle to commute to external schools
Other Preferred Qualities / Skills:
An educational/instructional background
Fluency in Spanish, Hmong, or Somali language
Business and/or entrepreneurial experience
Location: St. Paul, MN
Salary: $45,000-63,000
Status: Full-time
Reports to: VP of Development
Do you love to develop new content, refresh existing language, demonstrate impact, tell stories, and enhance an organization's brand? It's a fast paced and fun team that loves to continually improve and think creatively about communication strategy.
Primary Responsibilities:
Content creation and copy editing
Developing key messages related to programs, events, fundraising, and general organizational impact is essential in this role. A mastery of creative and technical writing is foundational and attention to detail is a must for copy editing tasks
Content design and planning
Graphic design skills are helpful, but not required. Keeping brand standards front and center while collaborating on designs and having an eye for editing communications pieces will enhance this role. Building content calendars to manage the communications flow and timeline is an integral part of this role
Communications and Marketing Strategy
Work closely with the Vice President of Development and other leaders to build and support communications strategy. It is essential for this role to see the big picture while also executing daily projects. Being an active participant and listener in planning meetings is required to understand collateral needs and help build the best approach
Marketing materials
As Junior Achievement North seeks to build brand awareness, develop new partnerships, share program impact, and raise more resources, the role of marketing is critical. Help find new marketing opportunities, strengthen existing efforts, and create materials to deepen the organizational connection across the community
Social Media
Creatively utilize to strengthen our social media presence. This will include content creation and planning, analytics, advertising/boosted posts, page promotion, cross-promotional engagement, etc
Website Management
Ensure that website content and images are up to date and help the team streamline the site going forward. The ability to build new website content, refine existing pages, and assess the website needs will be crucial
Media Relations
Think about ways to Junior Achievement North events, stories, and impact to media outlets to help boost public relations opportunities. Experience with crafting press releases and finding connections to media outlets is beneficial, but not required
Qualifications:
Excellent writing skills and a passion for storytelling
Strong editing and copywriting skills
Experience overseeing the design and production of communications materials
Ability to prioritize tasks while balancing multiple projects and deadlines
Excellent listening skills to understand the needs of the team
Proactive approach to project management and content development
A collaborative approach to helping colleagues accomplish their goals
Flexibility and eagerness to learn
3-5 years of communications/marketing experience
Literacy in Microsoft Office
COVID-19 vaccination strongly recommended
Other Preferred Qualities / Skills:
Comfort in Content Management Systems for website building and content editing
Knowledge of Canva design program
Experience in Adobe Creative Suite, including Illustrator, InDesign, and Photoshop
Asset-based approach to language development as we seek to integrate our diversity, equity, and inclusion work across our entire organization
Crafting of press releases and media connections
Experience utilizing email marketing platforms. Constant Contact is a plus
To apply, please email your cover letter, resume, and any writing samples or portfolios you'd like to include.
The following benefits are offered with 100% cost being paid by Junior Achievement North:

► Employee Life & Accidental Death Insurance
► Paid Family and Medical Leave

The following benefits are offered to eligible staff members with Junior Achievement North contributing toward cost.

► Medical Insurance
► Dental Insurance
► 401k Retirement Plan with a generous Junior Achievement North contribution of 3%

The following benefits are offered to eligible staff members at their own cost.

► Flexible Spending Account – Medical and Dependent Care
► Supplemental Life Insurance
► Dependent Life Insurance
► Long-term Disability
► 403b Retirement Plan
The Importance of Work Life Balance
At Junior Achievement North, we recognize the importance of work/life balance for our staff members, and we offer the following programs to support your work/life balance.
► Paid Time Off (PTO)
► Paid Volunteer Time Off (VTO)
► Paid Holidays
► Two Paid Breaks:
1-week Fiscal Year End Break
2-week Calendar Year End Break
► Flexible Fridays during the Summer Months
► Technology Cost reimbursements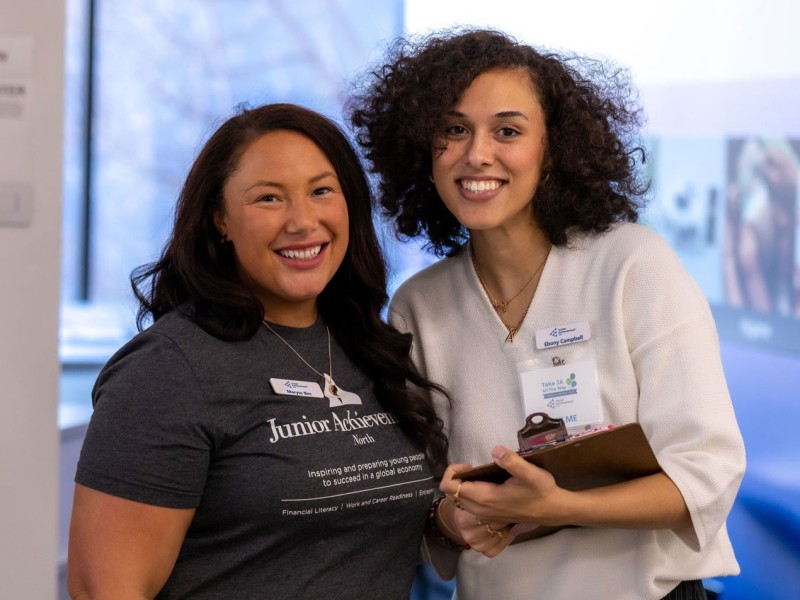 Other notes about our open positions:
PHYSICAL REQUIREMENTS: The physical demands described below are representative of those that must be met by an employee to successfully perform the essential functions of our open positions. Reasonable accommodations may be made to enable individuals with disabilities to perform the essential functions. While performing the job duties, the employee is frequently required to: sit, walk, occasionally required to reach with hands and arms, continually required to communicate effectively with others, occasionally required to bend, lift, or climb, frequently required to lift, and carry light weights (25-50 pounds), and specific vision abilities include: close vision, distance vision, and ability to adjust or focus.
BACKGROUND CHECK: Our positions are subject to the successful completion of a background check / verification of educational credentials contained in resume.
Our position descriptions in no way states or implies that these are the only duties to be performed by the employee occupying this position. This document does not create an employment contract implied or otherwise, other than an "at-will" relationship.